Fundraising software built for ministries, missionaries and churches.
MPDX is a free, secure app that helps you grow and maintain your ministry partners in a quick and easy way.

Easily track your donations
Get notified when giving patterns change. Keep a bird's eye view on your donation's health with our dashboard.

Sync with tools you already use
Save time syncing your Google, Mailchimp, and Prayerletter service accounts to MPDX.

Stay in touch with your partners
Changes in contact information from Donor Services and MailChimp sync straight to MPDX.
Track Changes in Giving Patterns.
See your commitments and progress with our simple dashboard.

Sometimes we want to keep a close eye on our donations, and sometimes we would rather not face reality! Bottom line is, in order to steward our ministries well, we need to see what's happening. With our simple dashboard and giving notifications, we show you an all encompassing look at the details that matter – even when you're on the go!
Powerful iOS and Android apps for MPD on the go.
It's easy for missionaries to disconnect MPD from our daily lives because we are always on the go. And so many of our personal interactions are not digital! MPDX is a highly accessible tool that integrates MPD interactions with social media and digital communication. Our mobile app allows you to easily track your MPD calls, texts, emails, and tasks when you are on the go, making it easy to weave MPD into our daily lives.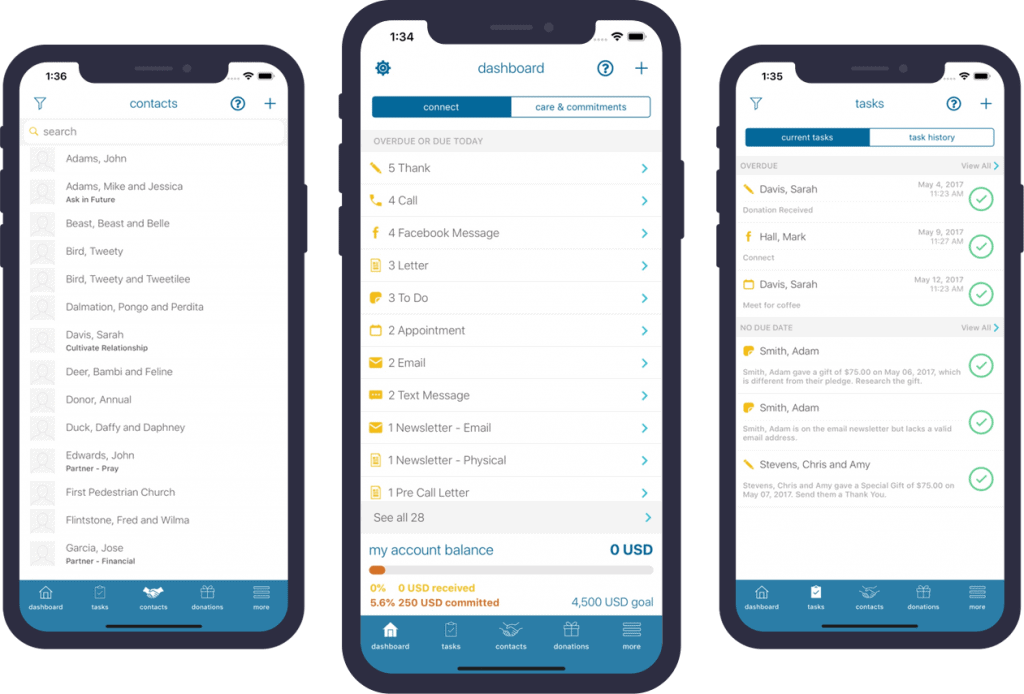 Update Once. Sync Everywhere.
Continue to use your favorite day-to-day tools.
MPDX has powerful integrations with tools you already use day-to-day and we are working hard to add integrations with other services.
You can connect your Google account to import your Google Contacts, and sync your appointments and tasks to your Google Calendar. MPDX can keep your mailing lists up to date in MailChimp and prayerletter.com.
If your ministry is using DonorHub, MPDX can automatically pull contacts, donations, and more. If your ministry is a Cru based ministry using Siebel or NetSuite we've already set up you account, all you need to do is login using your staff email.
Access to the Right Contact Details.
Never have old outdated information again.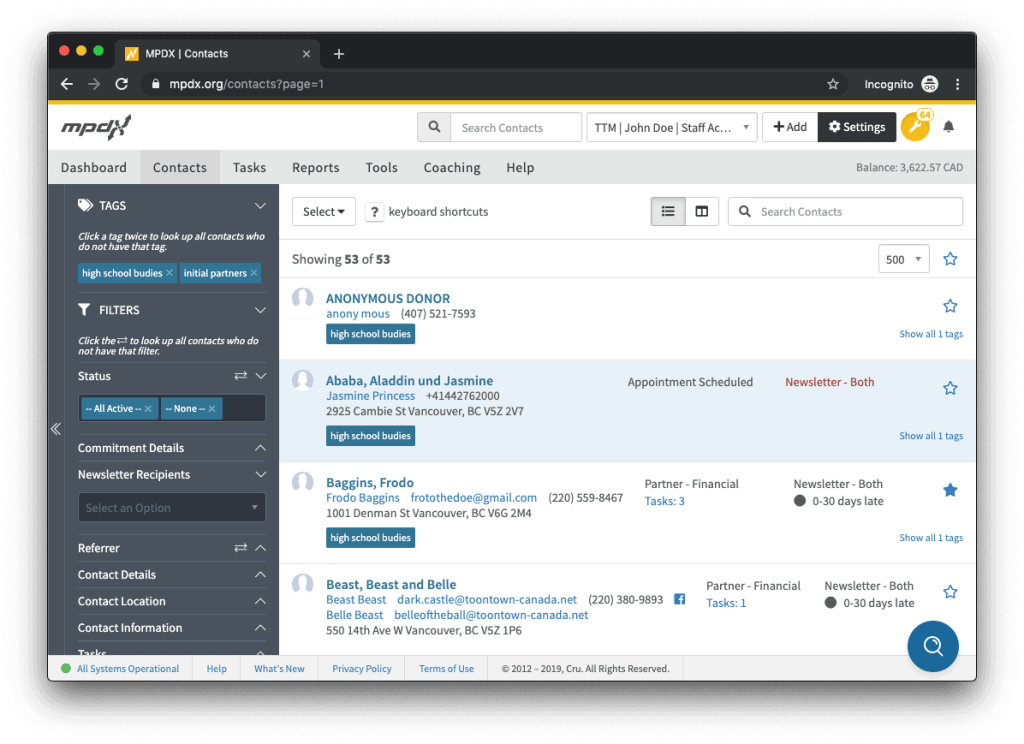 Your partners are the lifeblood of your ministry, we understand how important it is to stay connected. MPDX stores all of your contacts in one place. Changes from your Donation Services Team, MailChimp and other systems sync straight to your MPDX contacts. To make administration easy you can sort, tag and filter your contacts.
Frequently Asked Questions
Is MPDX available for my organization?
Your organization is welcome to use MPDX for free!
MPDX already syncs with many organizations around the world! If yours is one of them you can just log in and connect to your organization.
If not, we'll need to add your organization. Send an email to support@mpdx.org to ask how!
Can I share MPDX with my spouse or my team?
You can send them an invite to share access with to account. You can revoke their access at any time. You can both be working in MPDX at the same time. Changes will be saved in real time.
Can I bring my MPD data from TntConnect?
Yes. Task history, notes, contact information, appeals, it all comes over. TNT Groups are created as Tags in MPDX.
Join over 40,000 other ministry workers.
MPDX helps you quickly grow and maintain your ministry partners so you can focus on ministry.
What are people saying about MPDX?
It is a one stop shop for MPD. I'm able to track my giving and partners, create tasks and document reaches/conversations, and it reminds me of important dates or missed giving.
MPDX makes the web of connections, follow ups, and future tasks manageable. It allows us to focus more on relationships by managing all the details and statuses and to-do's.​
MPDX will help you organize and plan your MPD efforts so that you spend less time trying to figure out what to do next and more time actually doing it!​
MPDX has significantly helped me stay on-track with ministry partners and potential partners through the TASK module. This module makes it almost impossible for a ministry partner to "fall through the cracks".​
Sign Up for our Newsletter
Get the latest updates on new features in MPDX sent straight to your inbox.